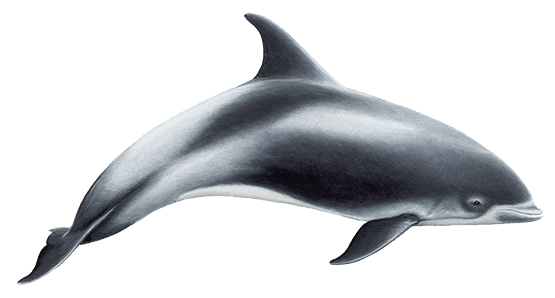 DESCRIPTION
In the first place, the white-beaked dolphin (Lagenorhynchus albirostris) is a toothed whale species belonging to the family Delphinidae, the oceanic dolphins. It's stocky body is dark grey, or black with white or cream-colored streaks. Their underside is a cream white color. Moreover they have a short beak that is white in most individuals, but not all. Their dorsal fin is falcate, and can have unique identifiable markings called nicks and notches.
IN GENERAL FEEDING
Moreover white-beaked dolphins can consume a wide variety of marine prey species, including fishes, crustaceans, and cephalopods such as squid. However, they appear to specialize on large demersal (sea-bottom) fishes such as cod and haddock. They are very adept hunters, working in groups and using echolocation to hunt their prey.
WITH ATTENTION TO DISTRIBUTION
Finally, the white-beaked dolphin inhabits colder waters of the North Atlantic Ocean, preferring areas where the water is less than 1000 metres in depth.
The population of white-beaked dolphins around Iceland has been estimated to be between 10,000 and 30,000 individuals. They are most commonly observed in pods of 5-10 individuals, but farther out at sea they can form "superpods" of hundreds, or even thousands, of individuals.
ADDITIONALLY DETAILS
Length: 2.5-3 metres
Weight: 180-350 kilograms
Worldwide population: Unknown, possibly several hundred thousand
Life expectancy: Unknown, but 40 years on average for wild dolphins
DESCRIPTION
To begin with the harbour porpoise (Phocoena phocoena) is a small toothed whale species, the only porpoise species found in Icelandic waters. Its body is rotund and stocky through the mid-section, tapering to a slender tailstock. It has a blunt and rounded snout without a prominent beak. The harbour porpoise has a very dark gray or dark brown back, shading to a lighter gray patch on the sides and a white belly. A dark stripe extends from its dark flippers to the eyes.
IN GENERAL FEEDING
Furthermore the harbour porpoise consumes approximately 10% of its body weight each day, mainly squid and non-spiny fishes such as herring, cod, whiting and sardines.
WITH ATTENTION TO DISTRIBUTION
Finally, the local population is believed to be 25,000-27,000 animals. They often form large groups of up to 250 individuals.
ADDITIONALLY DETAILS
Length: 1.5-2 metres
Weight: 55-70 kilograms
Worldwide population: Unknown
Life expectancy: About 12 years