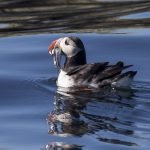 We can arrange private tours for groups of all sizes, from 1-198 people.
This can involve
– Whale Watching tour
–  Northern Lights tour
– Puffin tour
– Sea Angling tour
or anything your heart desires. 
The tour can possibly have a different starting point, route and theme of topics according to the groups interest.
If wanted we can also provide light food on board and even music, the options are endless and we will do our best to meet all of your request.
The tour includes service on board and guidance from one of our knowledgeable guides if desired. Arrangements and timing are negotiable and depends on the vessels previously booked engagements.
The tour can last up to 4 hours or shorter for that matter. The options are endless.
Please feel free to contact our Team at info@reykjaviksailors.is.
We look forward to welcome you on our tour in the future.